Raw Vegan Almond Joy Mini Bars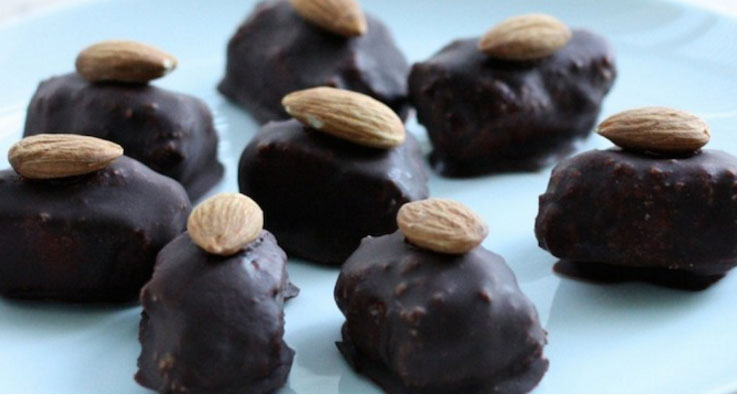 |
Ingredients for 12 candy bars
Filling Ingredients:
1 ½ c dried coconut (unsweetened)
2 tbsp coconut oil
3 tbsp maple syrup
1 tsp vanilla
1 pinch salt
Coating Ingredients:
1/3 c cacao butter
1/3 c raw cacao powder
2 tbsp maple syrup
1 pinch sea salt
12 almonds
Make the filling by putting all of the filling ingredients in a food processor with the "S" blade. Process them until they are well-mixed and you have a uniform consistency. They may be moist, but should stick together.
Divide the filling into 12 parts and form each part into a small rectangle. Place each one on a piece of parchment paper on a baking pan or shallow casserole dish. The, refrigerate them for about 30 minutes or until firm.
To make the coating, mix melt the cacao butter in a medium mixing bowl inside of a double boiler. Once melted, whisk in the other coating ingredients.
Next, dip each of the mini bars into the coating mixture and place them back onto the parchment paper. Let them set in the fridge for 10 to 15 minutes while the first coating cools, and then repeat so that every bar has two coats of the chocolate coating.
While the second coating is still warm, press an almond into the top of each bar. Let them set in the fridge for at least 15 minutes more. Before serving, be sure to let them sit at room temperature for around 15 minutes.
Source and Image credit to: KrissCar.com
GET MORE STUFF LIKE THIS
IN YOUR INBOX
Subscribe to our mailing list and get interesting stuff and updates to your email inbox.
we respect your privacy and take protecting it seriously
(Visited 1,181 times, 1 visits today)